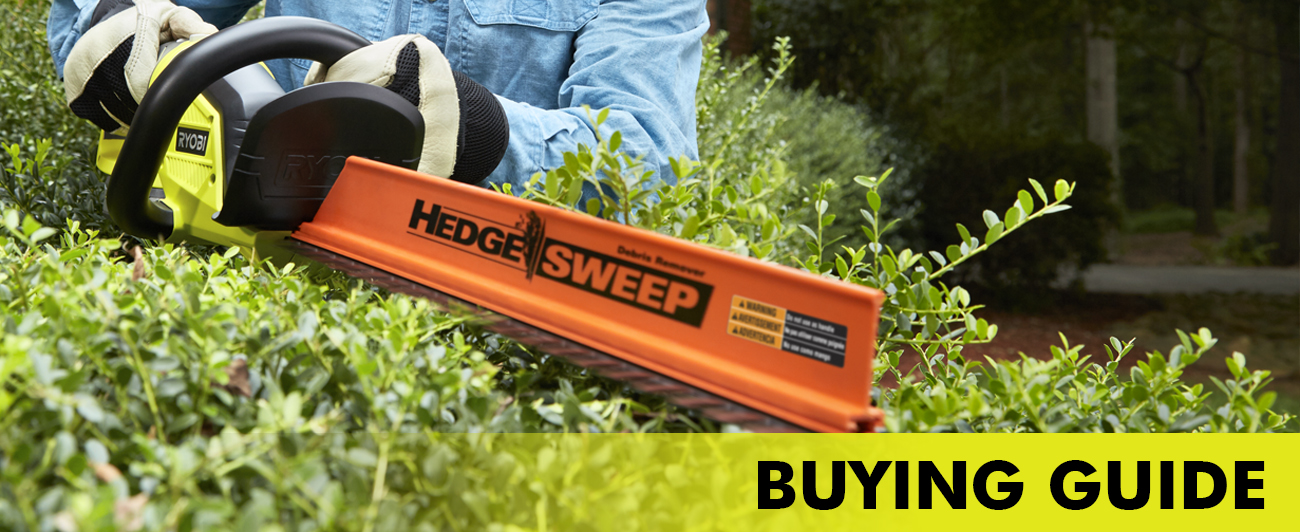 Overview:
Nothing makes a bigger impact on your home's curb appeal than well-manicured hedges. However, using manual hand shears and be a pain. Powered hedge trimmers are an awesome tool to have around and will help you easily maintain a sharp and clean look around your house.
Power Types
Cordless Hedge Trimmers:
Out of all of the cordless outdoor tools offered, hedge trimmers use the least amount of energy. Therefore, you will typically get more than enough run time out of these cordless tools to complete any job around your house. Some high voltage hedge trimmers will run up to 2 hours and most have a ¾" cut capacity.
18v to 24v HedgeTrimmers:
This category is similar in performance and features to Corded (Electric Models). These models are extremely light weight and maintenance free. Most offer between 30-45 minutes of run time on a single charge. They are perfect for light to medium duty work and will typically cut up to ¾" branches.
Price: $89 - $129
Power: Medium-duty, perfect for homeowners
Yard Size: Small to medium yards that require less than 45 minutes of work to trim the hedges..
Common Features: Rotating handle. Dual-Action Blades
Maintenance: No regular maintenance necessary
Weight: 6 – 10bs
36v to 80v Hedge Trimmers:
Models in this range will typically give you gas-like performance and offer extended runtime when compared to lower voltage hedge trimmers. These units are heavier than corded models but usually lighter than their gas counterparts. These high voltage trimmers can usually handle cuts up to ¾".
Price: $149 - $269
Power: Medium-duty to Heavy-duty, most are capable of easily maintaining any hedge that you would use a gas trimmer on.
Yard Size: Medium yards that take between 45-90 minutes to trim the hedges
Common Features: Dual Action Blades
Maintenance: No regular maintenance necessary
Attachment Capable: Many accept attachments.
Weight: 6 – 11bs
Gas hedge trimmers:
Gas hedge trimmers are designed to be used for extended periods of time on thick hedges. However, because hedge trimmers use so little energy, the high voltage cordless models will typically perform equal to or better than their gas counterparts. Gas hedge trimmers are used mostly by landscaping professionals.
Price: $149 - $500\
Power: Heavy-duty, capable of powering through any hedge smaller than ¾"
Yard Size: Large yards
Common Features: 50:1 gas to oil ratio or 40:1 gas to oil ratio
Maintenance: Regular maintenance required.
Weight: 10 – 15lbs
Electric:
Electric or corded hedge trimmers are the perfect option for people with limited budgets and compact yards. Limited by the length of your extension cord, these hedge trimmers have restricted mobility but are perfect for small jobs and the regular maintenance of hedges and plants next to your house. Lightweight and maintenance free, corded hedge trimmers are a reliable choice for less frequent use.
Price: $25 - $70
Power: Light-duty
Yard Size: Small yards with trimming areas within 150 ft. of an outlet.
Common Features: Dual action blades, rotating handle
Maintenance: No regular maintenance necessary
Weight: 5 – 8bs
×