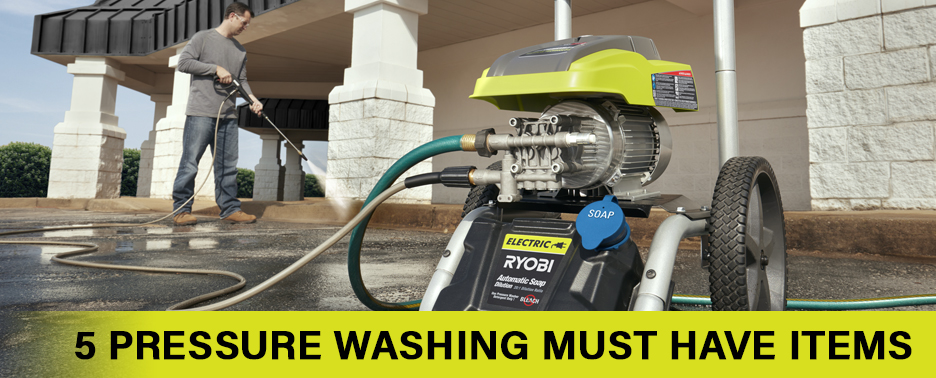 Nothing gives your curb appeal a boost like a good pressure wash. Everything from concrete to siding, vehicles, decks and fences, residential pressure washers help homeowners get that professional clean look without paying a pro.
We've put together a list of the top 5 accessories that can make your weekend cleanup jobs easier and faster.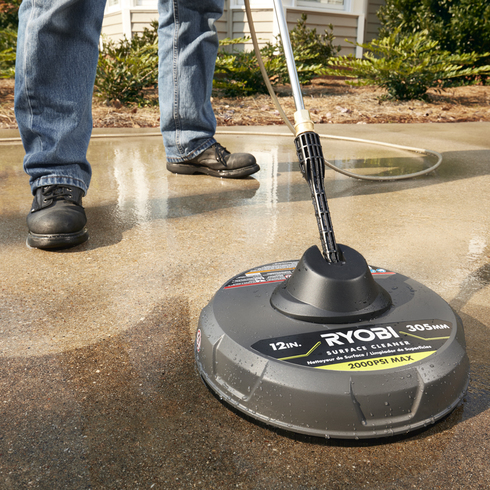 1. SURFACE CLEANERS
Surface Cleaners come in all shapes and sizes, but they all do the same thing: clean large flat surfaces faster.
The most commonly used type of surface cleaner is the disk-shaped attachment that connects to your pressure washer's wand. You can select either Electric or Gas compatible surface cleaners, and they'll help you get the job done in a fraction of the time.
The Water Broom is another great choice for efficient surface cleaning. With 3 high-pressure nozzles, it's compatible with universal ¼" Quick Connect gas pressure washers, and helps you finish the job up to 5X faster than a standard nozzle.
TIP for Surface Cleaners: Move at a consistent, steady pace. Moving too quickly will usually result in swirls or streaks. Moving too slowly may cause damage to softer surfaces.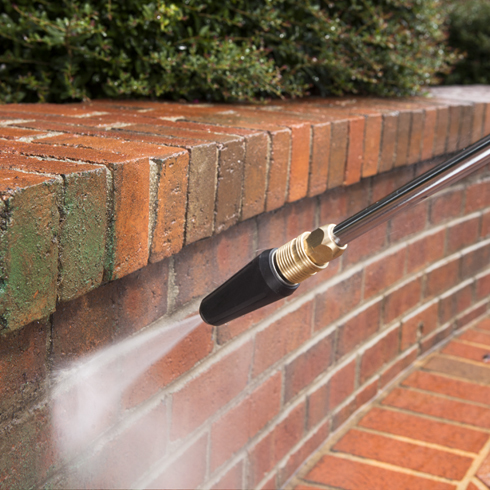 2. TURBO NOZZLES
The name sums it up well. A turbo nozzle is a no-brainer for Gas and Electric pressure washers. In a nut shell, it's a zero-degree nozzle that rotates in a circular motion for a wider cleaning path. This helps you get the job done faster and with less streaking than a standard zero-degree nozzle.
TIP for Turbo Nozzles: Since this is one of the most powerful spray patterns, make sure you're using it on hard surfaces such as concrete and masonry. Applying a turbo nozzle to softer surfaces such as wood or vehicles could cause damage to the surface. Always test your nozzle in an out-of-sight spot to make sure your surface can handle the pressure.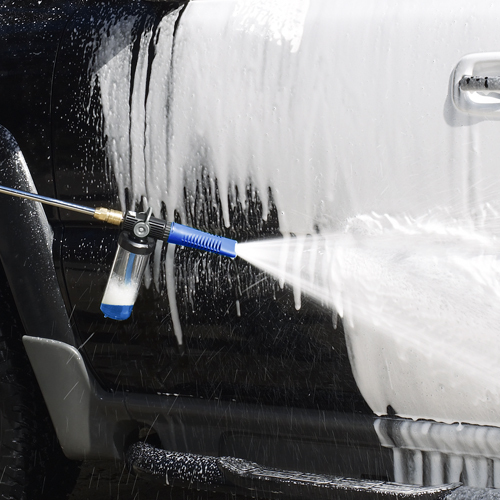 3. SOAP DISPENSERS
Soap application is a great way to penetrate stubborn stains and optimize your pressure washing time. Most pressure washers include a soap application kit, which includes a standard low-pressure detergent application nozzle. If you're looking for a speedier way to get total soap coverage, consider one of these soap dispenser options.
Foam Blaster: This specialty soap dispenser uses RYOBI Detergent to create thick, clinging foam that cuts through dirt, grease, oil and road film. From wood to concrete, tile to vehicles, this is an accessory that handles it all.
Variable Soap Blaster Nozzle: This is a major upgrade over the standard soap nozzle that comes with most pressure washers. It applies soap at low pressure and allows you to adjust the spray fan to suit your task. Widen the fan for broad soap coverage, or restrict the flow to apply soap up to 30 feet away.
TIP for using detergent: No matter what method you choose to apply soap, never let the soap sit on the cleaning surface long enough to dry. Dried soap is not easy to rinse, and it can cause streaking even after the surface is rinsed.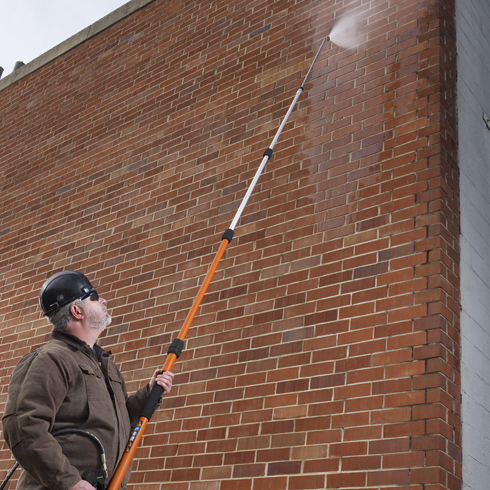 4. EXTENSION ACCESSORIES
If you're cleaning surfaces that are no higher than shoulder height (porches, walk-ways, vehicles), you may not need an extension accessory. However, if you're tackling siding, windows, and other home jobs that are above shoulder height, you'll save yourself a lot of trouble by extending the reach of your pressure washer's wand.
Telescoping Spray Wands are available for both Electric and Gas pressure washers. These options replace the factory trigger handle with a telescoping trigger handle, increasing the reach of your pressure washer. The 9 ft. Model is a popular choice among single-story homeowners, and the 18 Ft. Model is a great choice for multi-story homes. If your task only requires a little extra reach, you can choose from one of several basic wand extensions that attach right to your factory trigger handle.
TIP for Extension Accessories: Once you've decided to extend your pressure washer's reach, consider the angle of your surface. You may need to purchase a pivoting nozzle to help you hit your elevated surface directly. (This is also a great accessory to have when you need to clean the underside of a vehicle.)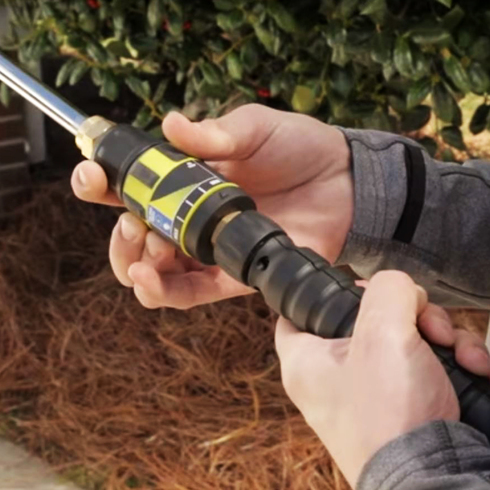 5. ONE-TOUCH ADJUSTMENT ACCESSORIES
Easy adjustment accessories make it easy to switch between one kind of task and another without having to halt everything to make tweaks. These kinds of accessories let you move from task-to-task seamlessly.
Pressure Control Valve: This simple accessory lets you adjust the pressure of your machine so you can transition from low pressure for delicate tasks (windows, vehicles) to heavy duty cleaning jobs (concrete and masonry). It's perfect for gas and electric pressure washers between 1600 and 3300 PSI.
5-in-1 Nozzle: This is a great way to switch nozzles between applications without having to turn off your pressure washer. Once this nozzle is in place, you can switch between 5 different spray patterns simply by turning the adjustment collar.
TIP for adjustment accessories: Whether it's a nozzle or your pressure level, always start with the gentlest options and work your way up to the more abrasive options as needed. You're looking for the least abrasive pressure/pattern that will still get the job done.
×